Datum
okt 16, 2017 - nov 9, 2017
Vreme
I nedelja: 16.10/17.10/19.10 II nedelja: 23.10./26.10 III nedelja: 30.10/31.10/02.11 IV nedelja: 06.11./09.11.2017.
Mesto
Novi Sad, Trg Mladenaca 5
Bonus kursa je i priprema za polaganje 100-105 ICND1 ispita i sticanje Cisco Systems CCENT sertifikata
Kome je namenjen
Namenjen je inženjerima, tehničarima i administratorima mrežnih uređaja koji žele da steknu znanje iz oblasti računarskih mreža, obuče se za konfigurisanje mrežnih uređaja kao što su ruteri i svičevi, polože CCENT (100-105 ICND1) ispit i steknu svetski priznat Cisco Systems CCENT sertifikat. Sticanje ovog sertifikata je važan početni korak za svakog mrežnog administratora na njegovom putu ka uspešnoj karijeri.
Potrebno predznanje
Polaznici moraju da imaju osnovno znanje o računarima.
Trajanje kursa
10 dana (po 4 sata dnevno) ili 5 dana (po 8 sati dnevno).
Priprema za polaganje ispita
Kurs je priprema za polaganje Cisco Systems CCENT (100-105 ICND1) ispita i sticanje odgovarajućeg sertifikata.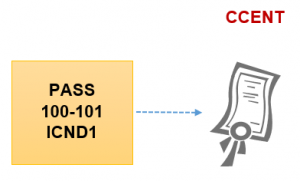 Cisco Systems CCENT sertifikacija
Sadržaj
Networking Fundamentals, Ethernet LANs and Switching

Data Network Fundamentals
Introducing LANs
The TCP/IP and OSI Networking Models
Understanding Ethernet and Switch
Building Ethernet LAN with Switches
Exploring the Functions of Switching
Operating Cisco IOS Software on Switch
Starting a Switch
Configuring a Cisco Switch

Routing Fundamentals and Initial Router Configuration

Understanding the Connectivity
Exploring the Functions of Routing
Operating Cisco IOS Software on Router
Configuring a Cisco Router
Exploring the Packet-Delivery Process

IP Version 4 Addressing, Subnetting and VLANs

IP Version 4 Addressing
Classful IPv4 Networks
Subnet Masks and Subnets
Variable-Length Subnet Masks
Route Summarization
Implementing Ethernet Virtual LANs
VLAN Trunking Protocol
Inter-VLAN Routing

IPv4 Services and IP Version 6

Basic IPv4 Access Control Lists
Advanced IPv4 ACLs and Device Security
IPv6 Access Control Lists
Troubleshooting ACLs
Network Address Translation
Fundamentals of IP Version 6
IPv6 Addressing and Subnetting

EIGRP and OSPF Configuration and Troubleshooting

EIGRP Concepts
EIGRP Implementation
OSPF Concepts
OSPF Implementation
Mogući naredni kursevi i sertifikacija
Kada položite 100-105 ICND1 ispit i steknete Cisco Systems CCENT sertifikat, napredni Smart Network Security kursevi podižu Vaše bazično znanje mrežne administracije na specijalistički nivo. Ovi kursevi su i priprema za sticanje narednih Cisco Systems specijalizacija:
Polaganje 200-105 ICND2 ispita i sticanje CCNA Routing and Switching sertifikata ili
Polaganje 640-554 IINS ispita i sticanje CCNA Security sertifikata.
Cena obuke: 600€ (u dinarskoj protivvrednosti na dan plaćanja). Mogućnost plaćanja u 2 rate.