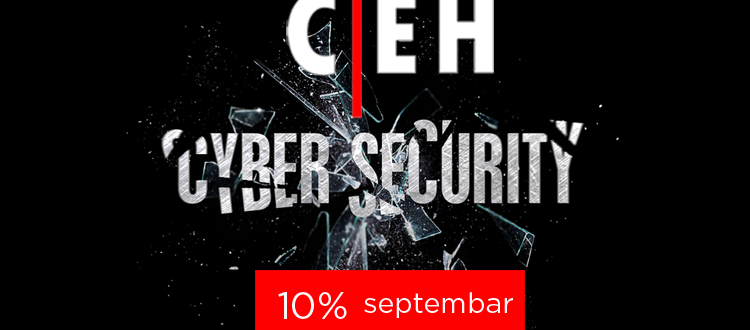 Poslednji dan Early Bird akcije za Certified Ethical Hacker – CEH kurs
Nakon tromesečne Early Bird akcije, stigli smo i do samog kraja. Danas je poslednji dan kada možete da rezervišete svoje mesto na kursu Certified Ethical Hacker – CEH sa 10% popusta!
Certified Ethical Hacker kurs je namenjen zaposlenima na pozicijama security officer, auditor, security professional, site administrator, kao i svima onima koji su zaduženi za bezbednost u kompaniji.
Outline kursa:
CEH se sastoji od 18 core modula i penetracionog testiranja.
Modul 01: Introduction to Ethical Hacking
Modul 02: Footprinting and Reconnaissance
Modul 03: Scanning Networks
Modul 04: Enumeration
Modul 05: System Hacking
Modul 06: Malware Threats
Modul 07: Sniffing
Modul 08: Social Engineering
Modul 09: Denial of Service
Modul 10: Session Hijacking
Modul 11: Hacking Web Applications
Modul 12: SQL Injection
Modul 13: Hacking Wireless Networks
Modul 14: Hacking Web servers
Modul 15: Hacking Mobile Platforms
Modul 16: Evading IDS,Firewalls and Honeypots
Modul 17: Cloud Computing
Modul 18: Cryptography
Kao profesionalcu za bezbednost, uvek morate raditi na unapređivanju svojih veština i znanja da bi mogli zaštititi svoju mrežu i sistem od savremenih pretnji. Zato, ako želite da naučite kako da pronađete slabosti i ranjivosti u ciljnim sistemima, kako da savladate veštine i alate koje koriste zlonamerni hakeri – iskoristite ovu Early Bird akciju i naučite sve to na našem kursu Certified Ethical Hacker…

Uz zvaničnu EC Council literaturu koju ćete dobiti na kursu, dobijate i polaganje ispita.
Ne propustite priliku da vaše znanje, veštine i portfolio obogatite! Vreme ističe lagano… Tik tak…
Prijave su u toku school@smart.rs ili na telefon 065/47-28-200.